With about 9 hectares distributed on the slopes of Monte Quarin, our vineyards are located in Cormons, the heart of the Collio.
Friulano (0.80 ha), Sauvignon (0.87 ha) and Cabernet Sauvignon (0.70 ha)
Friulano (1975), Sauvignon (1975 and 2000) and Cabernet Sauvignon (2000)
Planting in 1975: 2.900 strains / hectare
Planting in 2000:: 4,444 plants / hectare
Southwest and Southeast (small Tocai vineyard)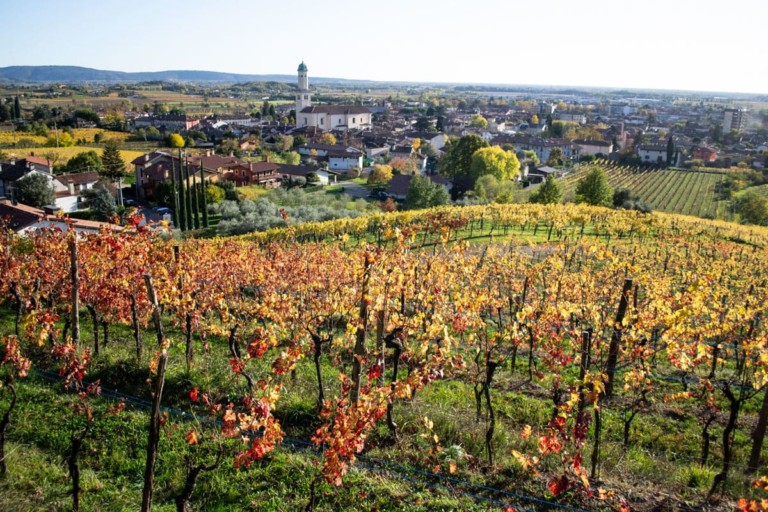 Located at the foot of Mount Quarin and a few steps from the center of Cormons, this vineyard has a very particular variability of the soil. The soil ranges from clayey / calcareous to prevalently calcareous / sandy, with frequent outcrops of layers of marl, moderately draining and poor in organic matter in the central part. Thanks to the South-West exposure, for which a prolonged insolation and a not very intense ventilation, the ripening takes place a few days earlier than in other vineyards with intensely aromatic and well-structured grapes. Furthermore, the clusters tend to be small, sparse and with small berries.
Merlot (0.31 ha), Malvasia (0.22 ha), Friulano (0.15 ha) and Ribolla Gialla (0.10 ha)
Malvasia, Friulano and Ribolla Gialla (1938), Merlot (2013)
Planting in 1938:  2.700 plants / hectare
Planting in 2013:  5.000 plants / hectare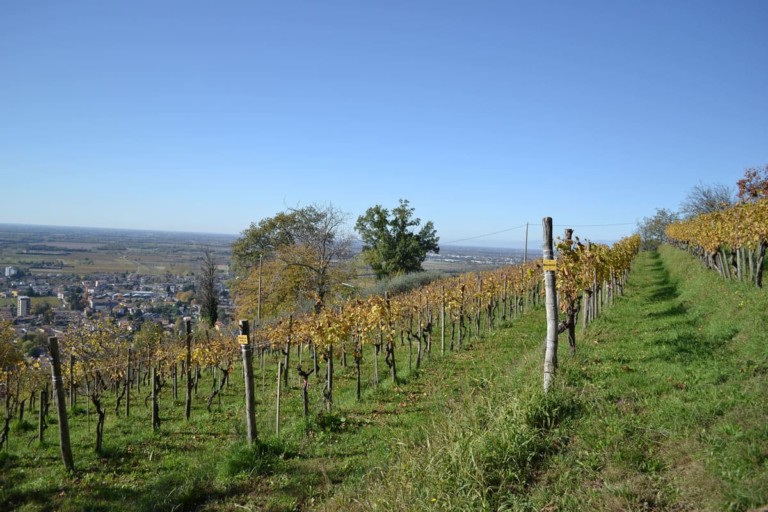 This vineyard is made up of three separate plots, with slightly more calcareous soils and poor in organic matter. Located on the highest point of Mount Quarin, it enjoys an orographic horizon favorable to a long insolation, with intense and constant ventilation.
This monumental vineyard, in the shape of an amphitheater in the middle of Monte Quarin, is the most recent but no less important. Indeed, it represents one of the symbols of the company, which holds so many hopes in its potential. Surrounded by woods, with less intense ventilation, exposed to the hot afternoon sun and more clayey soils, it is a vineyard suitable for a red grape variety such as Merlot. The resulting grape is powerful and alcoholic, with a lively acidity, fresh and intense aromas of cherry and black cherry.
Friulano (1,69 ha), Malvasia (0,5 ha),
Ribolla Gialla (1,03 ha), and Cabernet Franc (0,65 ha)
Friulano (1973), Malvasia (1973), Ribolla Gialla (2004) and 
Cabernet Franc (2004)
The soil is calcareous and highly alkaline, very draining and with the right amount of organic substance. Moreover, thanks also to constant ventilation, it is the ideal location for the white grape varieties grown here, especially for the native variety par excellence: the Friulano. The South-East exposure offers many hours of particularly morning light, making the vineyard enjoy prolonged lighting due to the low orographic surrounding profile, without high thermal peaks that could damage aromas and acidity. This is the optimal situation to obtain a white for aging, with good acidity and minerality, complex and structured.
Friulano (0.86 ha), Ribolla Gialla (0,15 ha), Malvasia (0.1 ha), Verduzzo (0.1 ha) and Merlot (0.1 ha)
Friulano (1980), Ribolla Gialla (1960), Malvasia (1990),       Verduzzo (1980) and Merlot (1980)
This vineyard is characterised by soil of a predominantly calcareous nature, rich in minerals and poor in organic matter.
With an intense and constant ventilation, it enjoys optimal exposure offering a large number of hours of light, making it a very interesting vineyard for obtaining grapes with great organoleptic complexity, structure and flavour.